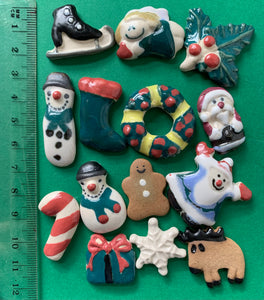 A mixed set of 50 Christmas theme craft pieces (no button holes). All made and painted by hand.
You will receive a mixed bag of 50 pieces as per the designs pictured.
Flat backed and acid-free - perfect for paper crafts, to make your own gift tags, greeting cards, place settings for the Christmas table.
Wonderful in mosaics as the feature piece.
Glue them onto picture frames, light switch covers, clock rounds...the possibilities are endless.
'Why settle for plastic?'