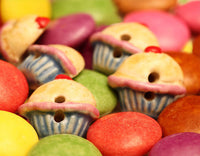 Company News
We are now based in the UK and all orders will post out using British Royal Mail.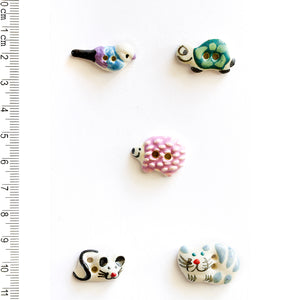 'Why settle for plastic?'
Each and every one of our buttons is lovingly made and then painted by hand with a paintbrush, no transfers and no quick tricks.
From the tortoise's smile to the cat's whiskers, every stroke is made by hand and each piece is unique.
When you put so much effort into your handmade creations...'why settle for plastic?'
Meet the Founder
Read more about the company's history and how it was started around a kitchen table in the About Us section.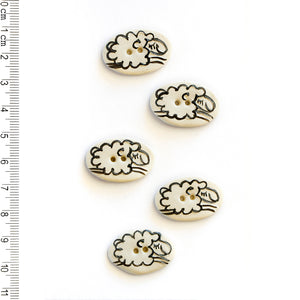 Spring into Spring
These little lambs have a spring in their step.
We have several sheep, lamb and ram button designs to choose from...let us know which is your favourite on our Instagram or FaceBook profiles and you could win a set of these sweet sheep buttons pictured.
Yesterday I received the hearts I had ordered. They are absolutely gorgeous:) The shapes, the colors are really like in the pictures.... Beautiful. I like.... I like.... I love :) Great job:) IncomparableButtons (the name of the shop) is really right, these hearts are incomparable.... really pretty. I absolutely recommend this shop and myself, I would come back. Thanks to Tamara and her team for these wonders.

Brigitte
If you can ever buy from this seller, DO IT. Excellent seller, quality merchandise, caring business, top-notch in every way. Thank you so much for these wonderful buttons. Great details and colors. I really appreciate your business ethos and kind ways. The extra surprise buttons are too cute and will be cherished.

Cat
A wonderful experience and the buttons are ridiculously precious and beautiful ❤️kind customer service and decisively professional. I will order again.

Deborah