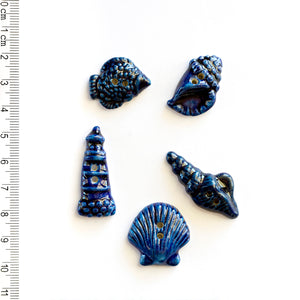 5 mixed sea life buttons in navy(3 x shells, lighthouse and fish).

Size:    In inches: Lighthouse is approximately 0.6 inches wide and 1.3 inches tall.
                               Fish is 1.2 inches wide and 1.1 inches tall.
                               Shell at the bottom is 0.95 inches wide and 0.95 inches tall.
             In centimetres: Lighthouse is approximately 1.5cm wide and 3.4cm tall.
                                         Fish is 3.2cm wide and 2.8cm tall.
                                         Shell at the bottom is 2.4cm wide and 2.4cm tall. 
Handmade and painted in South Africa.

Use our handmade buttons to replace plastic buttons or adorn a handmade item.
Decorate a pocket, handbag, hat, sleeve, coat, apron, snood, beanie, shoes, make-up bag, cushion covers...the possibilities are endless.

Flat backed and acid-free - perfect for use in paper-crafts: greeting cards, gift tags, scrapbooking.

A card of Incomparable Buttons makes a unique and whimsical gift.

'Why settle for plastic?'
Please note: all of our items are handmade and some slight variation in colour and size may occur.
Our buttons are fully washable - we do recommend turning the garment inside-out before machine washing.