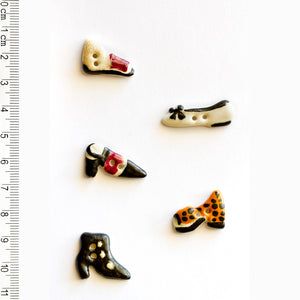 5 mixed shoe buttons in various shapes.
Size:    In inches: Approximately 0.8 - 1.1 inches long and 0.4 - 0.6 inches tall.
             In centimetres: Approximately 2 - 2.8cm long and 1 - 1.5cm tall.
Handmade and painted in South Africa.

Use our handmade buttons to replace plastic buttons or adorn a handmade item.
Decorate a pocket, handbag, hat, sleeve, coat, apron, snood, beanie, shoes, make-up bag, cushion covers...the possibilities are endless.

Flat backed and acid-free - perfect for use in paper-crafts: greeting cards, gift tags, scrapbooking.

A card of Incomparable Buttons makes a unique and whimsical gift.

'Why settle for plastic?'
Please note: all of our items are handmade and some slight variation in colour and size may occur.
Our buttons are fully washable - we do recommend turning the garment inside-out before machine washing.